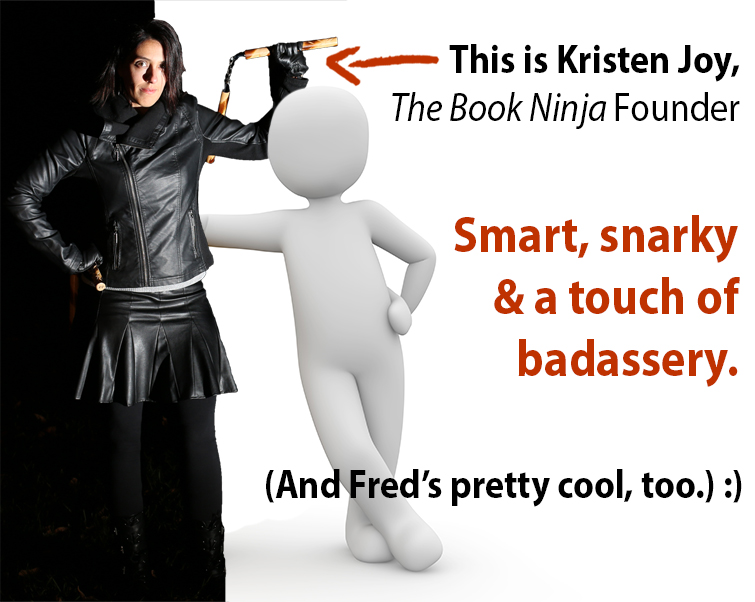 Kristen Joy Laidig decided she was "unemployable" at the tender age of six when she started her first business making and selling pet rocks with nothing but a Sharpie® marker, gravel, and a little creativity.
A serial entrepreneur, in 2003 she turned her life-long love of writing into a full-time career teaching authors and entrepreneurs how to create books that bring them business and turning authors into successful authorpreneurs through her internationally-known brand, The Book Ninja®.
After discovering how to thrive through chronic illness and an autoimmune disorder, Kristen went on to write and publish 18 Kindle books in 18 weeks (authoring a total of over 32 books), start over 50 publishing companies, publish over 200 books and e-books, teach hundreds of webinars, coach thousands of authors from idea to published, build a livelihood from negative $300-a-month to a multi-six-figure business, study martial arts at four different schools with multiple styles, earn her black belt in karate, and eat way too much chocolate.
She currently changes lives through her students… one published message at a time, invests in start-up companies, manages her own book and toy store Toy Box Gifts & Wonder in the heart of her newfound hometown, Chambersburg, PA, is in the start-up phase of at least three new businesses at any given time, and consults existing business owners who are ready to level up their game.
Besides on her website at KristenJoysBlog.com, she can also be found building relationships online at her second home in Facebookland (Facebook.com/thekristenjoy), brainstorming business ideas in her hot tub, playing with her two ragdoll kitties, or roaming the toy aisles with her man at Target hunting down toys for themselves and their cats.